Water for People
Water For People exists for one purpose, and it's as simple as our name: we want all people to have safe, continuous water, and when they do, our job will be done. We want water for everyone, forever". http://www.waterforpeople.org/
Water For People is the AWWA designated charity of choice, and is also endorsed by the Water Environment Federation, the Water Quality Association, the National Association of Water Companies, the National Association of Clean Water Agencies, and the Association of Metropolitan Water Agencies.
Water For People Canada
Water For People–Canada is a charitable, nonprofit, international humanitarian organization dedicated to the development and delivery of clean, safe water and sanitation solutions in developing nations. It is the Canadian equivalent of the U.S.-based charity, Water For People. Canadian water industry professionals established Water For People–Canada in 1995, to support and promote the mission of Water For People in Canada among the public and the water community.
When one person or one family has clean, accessible water, their lives are changed. But when entire regions and countries have water, the world is changed.
We're looking beyond toilets and wells and water pumps, and into the future. We're talking to people to find out how they live and what they need to feel healthy, safe, empowered, and successful. We're designing solutions based on long-term needs — and long lives. We don't want to be around forever, but we want water to be.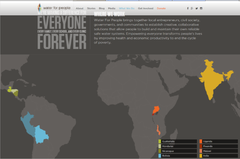 The Western Canada Water (WCW) Section Committee is active in supporting integrated, sustainable water and sanitation projects in developing countries. Projects are typically small in scale and rely heavily on in-country, local organizations, and volunteer labour. The Committee also seeks to raise awareness among the membership, especially those working in the water supply and related fields, about current conditions in those countries and how we can help.
 The WCW Committees have held Networking Nights, Funspiels, Silent Auctions and  raised $5,000.00 so far this year; the money goes to support 2 communities in Peru.
Committee News:
The Winnipeg Water For People Curling Bonspiel took place for the 4th time at the Fort Rouge Curling Club on April 13, 2015.  About 45 participants took part in the curling action, prizes, silent auction, and surprisingly good pizza, and the event raised over $1,200 for Water For People's programs in Peru.
| | |
| --- | --- |
| The victorious team from the Winnipeg Water For People Curling Bonspiel, the "Coral Snakes".  | Best Costume Winners at Regina's First Annual Bonspiel. The event raised approximately $725.00 |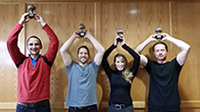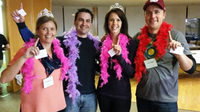 Calgary's bonspiel had approximately 47 participants and since it was held on 1st of April, the team with the least amount of wins received the trophies and the team with the most wins well.....
For more information on WFP, how to donate and who to contact to volunteer or join in the fun in your area contact:
Anne Bridgman or Kari MacDonald, Co-Chairs of WCS—AWWA Water for People Committee at  anne.bridgman@ctwcalgary.com  or kari.macdonald@calgary.ca.